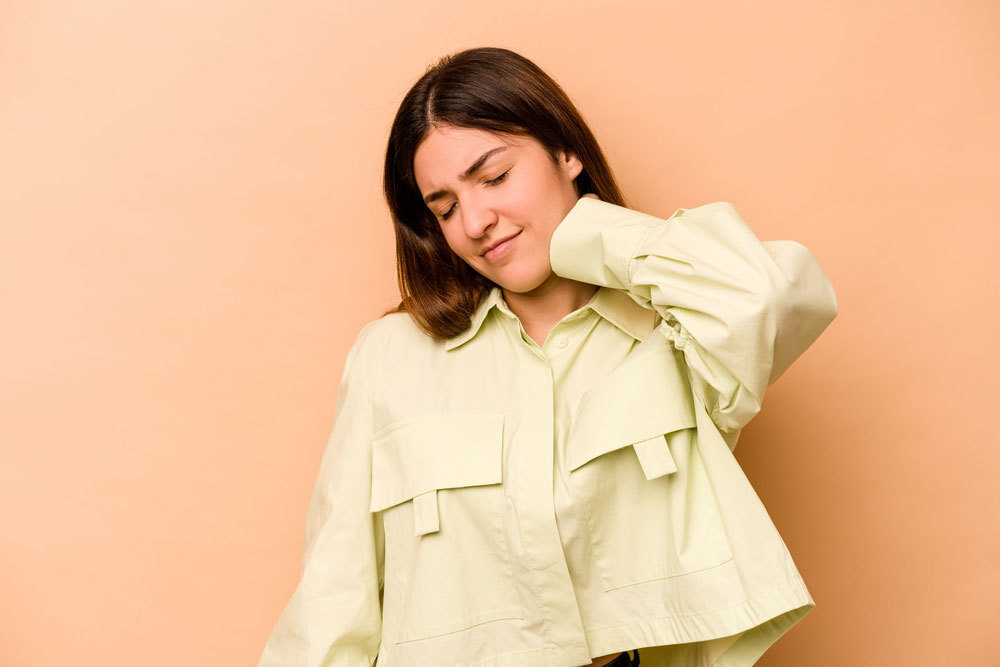 The neck is composed of durable soft tissues and the cervical spine (the upper portion of the spine). Most of us rely on the full function of these structures for many of our everyday movements. When the neck is injured, the simplest task can be challenging, painful, or impossible.

From sedentary people to athletes, young people to seniors, CrossFit people to yogis, and everyone in between, chiropractic solutions can quickly relieve your neck pain by resolving the condition causing it.
This post will answer:
Why do I have neck pain?
How can I end my neck pain quickly?
Can chiropractic care heal neck injuries?
And more

If you experience neck discomfort, you understand the importance of getting safe, effective care so you can get back to living in comfort. No matter the severity of your pain, chiropractic care is an excellent resource for managing your neck pain and treating the injury.

Why Does My Neck Hurt?
Neck pain affects millions of people for various reasons. With technological advancement, inactive lifestyles, remote workstations, and even streaming services, neck pain has steadily increased.
Common symptoms of neck injuries:
Neck pain or neck stiffness
Radiating pain from the neck to the shoulders or back
Neck ache while at rest
Loss of range of motion
Loss of flexibility
Inability to rotate or nod head
Fatigue
Headaches
Stress

You may experience these symptoms for several reasons, and most people fall into at least one category.
Reasons for neck pain include:
Using a handheld device for extended periods (reading, scrolling, texting, etc.)
Improper workstation setup
Poor posture or ergonomics
Habitual poor movement patterns
Soft tissue overuse or repetitive use, usually work or sports-related
A traumatic event, such as a car accident
Aging or regular wear and tear
Inactivity

These patterns can cause dysfunctions and injuries to the neck's soft tissues and discs.
Common neck injuries include:
Sprains and strains
Disc herniation or other disc injuries
Pinched nerve
Arthritis

While the injuries range in severity, an experienced chiropractor can efficiently get you relief, creating a unique wellness plan specific to your needs and goals.

Home Remedies to End Neck Pain & Keep the Neck Healthy
When your neck hurts, much of your day can be affected. The best approach to your neck's health is proactive care that reduces the risk of injury.
At-home actions to promote a healthy neck:
Strengthening exercises
Stretches to support flexibility and range of motion
Reduce stress
Get quality rest
Ensure you have good posture
Ensure your workstation is set up correctly
Get off the devices

If a neck injury has already occurred, there are steps you can take at home that may improve your comfort.
At-home remedies to help end your neck pain:
Gently stretching the neck
Correcting your posture
Applying cold and heat
Support and rest your neck muscles

Never strain your injured neck and if you're unsure how to best support your injury at home, contact your local chiropractor and make an appointment to ensure you refrain from further damage.

Chiropractic Solutions to Heal Common Neck Injuries
Chiropractic services for neck pain are proven, reliable, and safe. Using natural, non-invasive methods, your Aurora chiropractor can restore the neck's proper function so you can get back to your lifestyle pain-free.
Chiropractic techniques for neck pain include:
Chiropractic adjustments to balance and align the spine and other affected areas, restoring function and reducing discomfort often immediately.
Soft tissue therapies heal injured tissues, ending restrictions and nurturing good movement patterns and flexibility.
Exercising and stretching programs designed around your needs and abilities to heal and strengthen the body.
And more
Visit Rose Chiropractic in Aurora and End Your Neck Pain Fast
At Rose Chiropractic, we provide the optimal care to each neck pain patient. Our goal is to get you healed using the fastest, most effective forms of recovery. You want to end your neck pain fast, let us make it happen.

Contact us today; your neck pain relief is closer than you think.